Lots of fun (well, in terms of this blog "fun") stuff happened today, but I'll save some of it for other posts. One of the exciting things that Dave and I have been waiting for is our first taste of grass-fed beef — and, today, we had it! As the Lord would say — "It was good!"
I bought 3 vacuum-packed, frozen 1-lb. packages of ground beef at this week's Herkimer Farmer's Market. After talking with the owners of the booth (and farm, presumably), I found out that the beef that they raise is called Limousin (pronounced like the vehicle you took to the prom…or your wedding) rather than Angus. She explained that the difference between them is in their digestive system; they look completely different, so the way their flesh and fat develop look completely different, too. She then handed me a sheet filled with information on the breed and I grabbed my purchases and left.
Dave asked to read the information later, so we did so together. I ended up finding out that this type of beef is a lot leaner, but that many agricultural colleges have performed taste tests (among other types of tests, like cholesterol — it's equal to that of eating chicken) and that this breed scored high every time. I'm pretty pleased with the n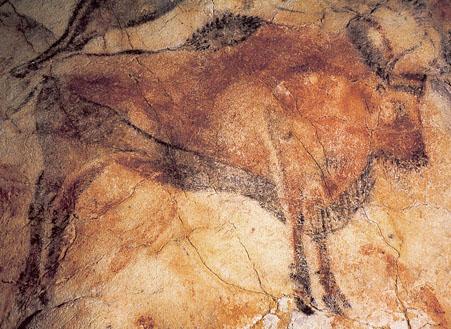 ot-cheap purchase, overall. Most of all, knowing that the burger I was eating was raised (and slaughtered, but I try not to think about that part) in Little Falls — the shortest distance my meat has ever traveled!
Another informational tidbit about the Limousin is that they have been around for over 20,000 years — in fact, they're the cows that you'll find painted in the caves in Lascaux. So, I'm lovingly referring to them as cave cows. I just think that's so cool!
I considered just having normal burgers to test the taste, but I was in a chef-y mood. Here's what I did, instead:
(from allrecipes.com, Chris' Bay Area Burger, which I prefer to call…)
Italian Burgers
Ingredients
1 pound ground beef
2 cloves garlic, minced
2 tablespoons extra virgin olive oil
1 1/2 teaspoons salt
1 teaspoon freshly ground black pepper
1/2 teaspoon dried basil leaves
4 hamburger buns, split
Directions
Preheat an outdoor grill for high heat. Mix together the ground beef, garlic, olive oil, salt, pepper, and basil. Divide into four balls, and flatten into patties.

Cook the patties for about 3 to 5 minutes on each side, or to desired doneness. The internal temperature should be at least 160 degrees F (70 degrees C). Remove from grill and place onto hamburger buns. Top with desired toppings and condiments.
But, since the burgers had such an Italian spin to them, I roasted some sliced grape tomatoes for Dave (in some olive oil and basil) and the following aioli:
2 garlic cloves
1 large egg yolk
2 teaspoons fresh lemon juice (and its zest)
1/2 teaspoon Dijon mustard
1/4 cup extra-virgin olive oil
3 tablespoons vegetable oil
Preparation
Mince and mash garlic to a paste with a pinch of salt using a large heavy knife. Whisk together yolk, lemon juice, and mustard in a bowl. Combine oils and add, a few drops at a time, to yolk mixture, whisking constantly, until all oil is incorporated and mixture is emulsified. (If mixture separates, stop adding oil and continue whisking until mixture comes together, then resume adding oil.)
Whisk in garlic paste and season with salt and pepper. If aioli is too thick, whisk in 1 or 2 drops of water. Chill, covered, until ready to use.
So, our first taste of local, grass-fed, no-hormone beef was a huge success! Tomorrow, we'll be setting up my victory garden (it'll be victorious if we actually get it growing) — but, next weekend, hopefully I'll be able to plant. With my fiance in cahoots with the weather people at his station, I've been told I need to be patient; we've had a pretty chilly spring as far as our usual season goes. (However, in my next post, I'll tell you about something I WAS brave enough to plant!)
(Picture from http://donsmaps.com/cavepaintings.html)