Mmm, alliteration. Truly a girl's best friend. And after re-reading this post, parentheses.
So, the monkey's big birthday (you know, the BIG birthday…the FIRST birthday) is coming up July 13th. Sure, it's still May, but I live in this little place called reality, where once a child is born, time starts playing horrific tricks on us. He's practically shaving.
Okay, not shaving, but he's insanely mobile (mere moments from walking, I swear) and even says a few words. Wait, "oof oof" is totally a word, right? It is when it's associated with dogs (and, for the time being, cats…they're the same thing, all the cool kids say). And the time seriously feels like it passed in the blink of an eye. The blink of an exhaustedly blood-shot, tear-filled eye.
To stave off any further waterworks, I'm focusing my emotional energies into creating an awesomesauce birthday party. I'm using Pinterest, oh evil mistress of perfection-flaunting in the face of mere mortals, to glean some ideas that might be fun to try. But, you know, since I live in reality (and am the mother of an active 10 1/2 month old who demands attention; would he prefer to have free reign and complete independence? Sure thing. Do I want to have a child with numerous concussions and cats with mental scars for life? Hellz no.), I'm fully aware that most of these aren't attainable.
We can dream, can't we? If I hit 40%, that'll be doing something.
Oh, and I also live within a reality which involves people who would think me a tad overboard for implementing all this stuff. So, I have to reign it in, too, simply as not to have any heads exploding come July 13th. Not a pretty way to celebrate a fun day. Horrible replacement to fireworks.
As with most things we do, I'd like to keep it green. Recently, I stumbled upon a website that is essentially nothing but a depressing sob-fest (for softies such as myself) displaying hundreds of pictures of animals who have been injured or killed by balloons after being allowed to float away or even just after being thrown away properly. Damn, Hadman loves balloons. That's okay, social responsibility comes first — and he won't even know what he missed. Tissue pom-poms or Chinese lanterns, it is, son!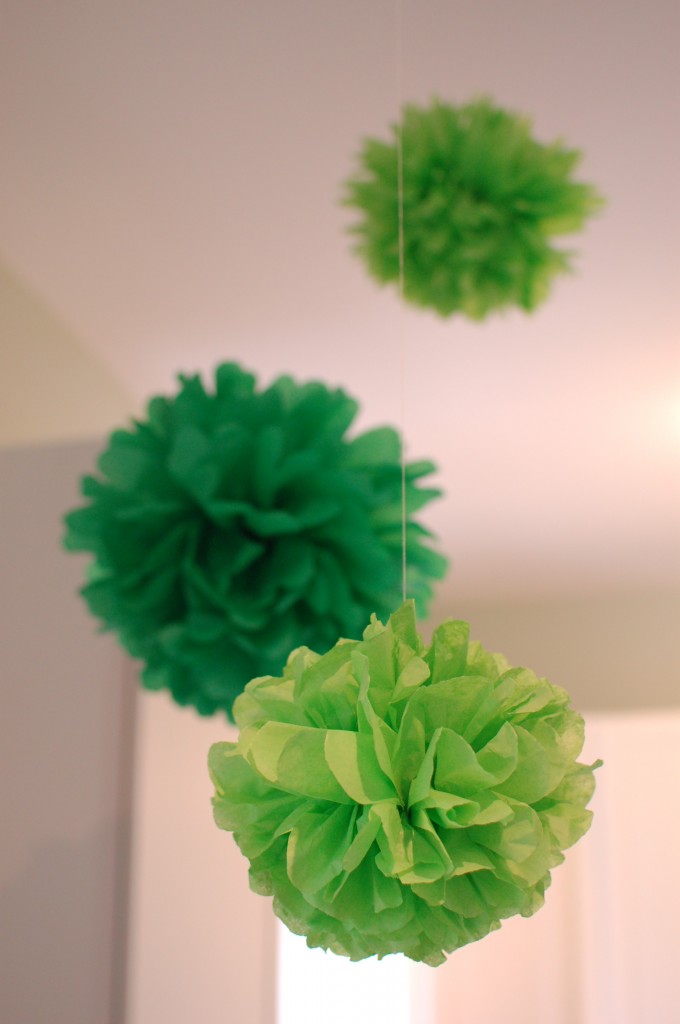 What's a birthday party without hats? A regular ol' barbecue, that's what. So, for those who want to wear one (sign me up, please!), we have a couple of options…
(These are wooden, but you get the idea. I guess they make birthday crowns from newspaper in England. Not only eco-friendly, but classic! Hadley's not a hat guy, so this is only an "if Mommy wants to get all Martha Stewart and sleep very little" option.)

source
I've already purchased some hats (to reuse over time), but dude. Just dude.
That whole site is chock full o' birthday sweetness.
Like these!!!!! I'm on the hunt for some sans serif cookie cutters. Baking in inevitably 90° weather with an almost-toddler? I'm an idiot. But, if I find an "H" I can use it every year! Y'know. In the sweltering heat. *smacks forehead* Oh, and of COURSE I'm searching for natural (ie fruits and veggies) alternatives to food coloring. Blueberry's a must, simply because Hads loves 'em.

Or I could always make (or buy?) cake pops. I've never had them but I hear they're the rage. Or, at least that's what the kiddies are shouting into my Miracle Ear. Could also buy cupcakes (maybe the ones we used for our wedding!!!) and make a smash cake myself for the monkey. Ha. More baking.

Speaking of smash cakes, here's a lower sugar, all-natural option I'm considering.
Plus, bananas and blueberries = very happy almost-toddler. I did not just type that word. *sigh*
STILL from the aforementioned party (man, that Beckham's got swagger), I love just the simple container for napkins, utensils, etc (I was searching Target today for eco-friendly of all of the above; think I'll have to hit up Peter's Cornucopia; love that place) and a chalkboard for the menu. Of course, this is the one area that I'll be considered crazy if I just say "Let's just do a cheese/cracker (I guess we don't do "bread") and veggie tray, some cookies and cupcakes, and maybe some cute sandwiches on baguettes." Inevitably, there will be mounds of salads — green (specifically for my husband, who eats nothing with mayonnaise), potato, pasta — possibly several types of grilled meats, perhaps a pizza will show up…food's one thing we do, and do to excess. No point, really.
See, in my mind, which is always grasping for the aesthetically-pleasing, slightly quirky and quasi-hip method, I'd want the money (hell, if no one else wants to pitch in, I'll do it!) on organic soda (it exists! And in purdy bottles, too!) and a craft beer chilling in a galvanized tub with some homemade lemonade in mason jars, and a display that looks something like this (sans tomato soup and pie)…

Darn you, Beckham.
I am also considering, food-wise, something along the lines of this…
Not that font or description, but the thought behind it. Our kid's got a pretty refined pallet (read: will eat anything, particularly off floor). Avocados. Extra-sharp cheese. Pasta. A plethora of fruit-and-veg blends including kale or beets. Oh, and pizza…and generally anything that adults eat that we literally need to fight him off to consume. It turns into a scene from Oliver!, I kid you not. "Please, sir…!!!" So, I'm thinking pizza, homemade guac with chips for dippin' (maybe salsa, too), fruit salad (bananas, kiwi, blueberries, cantaloupe), veggie sticks (the ones in the organic chip aisle; he can't handle the raw stuff quite yet), and cheese 'n crackers (or a cheese dip of some sort).
By the way, we're not doing a theme this year. We considered it for one mad minute, but then realized "Um, he's one. That's a theme right there." (If we wanted to get all dramatic, we could do the "Not yet a man, no longer an infant…" theme. Mustaches abound! Or giraffes. God, the giraffes.) We're just going with the colors of his nursery, for the most part — y'know, turquoise, orange, green. Good times.
(Maybe one day we'll do the Mo Willems theme…or the Fred Astaire theme…or whatever the heck else he's interested in. But, we'll strive to keep them home-grown events without the rigmarole of inviting an entire freaking grade of kids. We're not here to show off, just have fun. And Mommy totally has fun with aesthetically-arranged sodas, mkay?)
Speaking of which, one thing that our parties tend to lack is organized fun. It's a tad tough to do this (same goes for favors) since we don't really have a plethora of kids coming. There's Hadley, his cousin Lizzie (who will be 2 months shy of 2 years old *more sobbing*), and MAAAAAYBE one more friend of the family who's not school-aged yet. Tada. The rest are teenagers *yet more sobbing, I changed their dipes* and a buttload of grown-ups. So, rather than force people to violently whack something whilst wearing a blindfold (never got that), I'm thinkin' we'll do a variation of this…

Halleluia, it wasn't at Beckham's party! (No hard feelings, kid. You seem pretty darn cool. Future play date! My child is far less crazy than am I.) Anyhoo, I was thinking more of a card that folks could fill out — one would write something loose like this while the other might have fill-in blanks (what he wants to be, what color his hair will be, what his favorite animal/instrument/food/hobbies/sport, etc.) and folks can do either one. I also considered a photo booth type thingie (just hanging a backdrop and leaving directions and props for photos), but I'm not sure anyone will do it. Party poopers.
Oh, and as far as entertainment goes, it sounds like the hubs hopes to make a video of the kid's first year. Talk about emotions, gah!
Another "oh, and" — this whole thing is kindly taking place at my mother's house since she has a perfectly-sized backyard for stretching out, playing, and so forth. I mentioned inviting non-family members (it reaches about 16 or 17 just with close family) and I think I heard smoke come out of her ears through the phone. She nervously mentioned not knowing what to do with folks if it rains, but I brushed it off. (Sure, neither of our houses is big enough to handle that many people. I get the concern, I do.) But, it ain't no thang. We'll make it work. I know folks with "pop-ups" and we could always run and grab an extra tarpy tenty thingie or two. I'm on it, Mom!! If you read this. In which case, HI!!!

One last thing (check me out on Pinterest if you really want to subject yourself to more) is probably what I should've showed you first: a possible invite.

Okay, forget the "possible" part. I already "borrowed" this idea, downloaded some fonts, and stayed up until almost midnight last night hashing out a similar design (orange rather than red, close-but-no-cigar on the fonts, and a cool black and white tree trunk background). Sorry, Magnus, your time's up — HADMAN's in town, and he's a-takin' over.
So…think I'm nuts to put so much thought and effort into a one-year-old's party, or do you get where I'm coming from? Aside from my aesthetic-loving self, it's about celebrating the life-altering first year of the specialest little guy ever. That's all. 😉